500g White Merino Wool Handmade Undyed Top Roving Spinning Felting Araucania - 18 Microns
---
500 grams White Merino Wool Handmade Organic Top Roving Spinning Felting Araucania - 24 Microns

Our Handmade Chilean Araucania Merino is the best quality wool to felt with because it felts fast due the fibres being fine, and the wool being high quality due to high animal welfare standards. Our roving is available in many colours however this listing is for pure natural fleece colour, undyed.

Merino is good to use when learning how to spin as it has an ideal staple length (length of fibres) of 4 – 5 inches. Merino fibres are very soft meaning the items you make feel nice next to the skin which is good for scarves, hats and jewellery.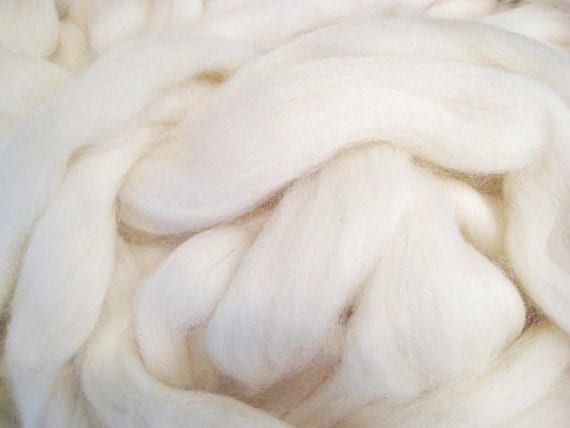 Imagina Natural guarantees that our merino is ethically sourced from non mulesed flocks. The wool fibres are non-toxic and baby safe.

- Chilean Handmade Natural Araucania Roving Wool
- Ideal for spinning or felting
- 500g / 17.5oz of the finest soft natural white merino wool tops! Approximately 25 metres in length.
- Wooltop made from 100% fleece wool
- Natural White , Undyed
- Absolutely magnificent wool top, simply beautifully soft and smooth. 
- Perfect for hand spinners & felters

This wool is uncoloured and maintains its natural colouring. As a result due to natural variation the products you receive may vary slightly from the pictures. If you are planning a larger project we advise ordering slightly more than you expect since in future the colour match may not be exactly the same if you come to repurchase in future.

About Imagina Natural
We select the best materials and products from Chile and especially from Constitucion and the Maule region. Providing the world access to these special products normally only enjoyed by locals. These products come from the heart of Chile often handmade or hand processed showing the care and devotion to producing good finished products.
---
Share this Product
---
More from this category